The 807 Vacuum Tube sculpture is a giant monument built by MTM representing an old radio valve. 
The sculpture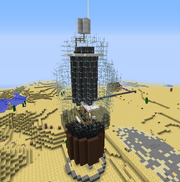 The sculpture is 41 blocks tall and is made mainly of glass for the envelope, black stained glass for the getter, various wools , planks, iron blocks, etc for plates and wires inside it. Brown stained clay and iron blocks for the base and pins, and also iron for the anode connection on top. the cathode is made of glowstone, making it look like it's being powered.
The Tube
The 807 , a beam tetrode, is a transmitter tube developed at the RCA laboratories in 1937, as an early Radio frequency variant of the very similar 6L6, the tube is very well respected among both Audiophiles and HAM radio operators, since it can make a very good quality audio amplifier and also make some particularly good radio transmitters.
The 807 could work on voltages way higher than the 6L6 because in some applications of the 6L6 on high voltages, an arcing could happen between pins 2 and 3 on the base (in some amplifiers when running without the speakers connected, as an example) while the top connection on the 807 keeps the connections too distant from each other to produce a flashover.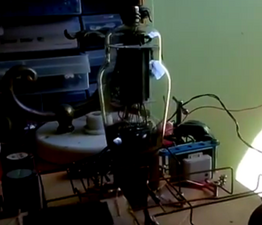 Among Australian radio operators it is sometimes nicknamed stubbie since it resembles said beer container; as well, going picking and 807 is an expression that means going for a beer.
MTM reviews the tube as being perfect for vacuum tube electronics beginners as one in good condition can work as a simple triode detector with gain receiver at voltages as low as 40 volts, and the tube has plenty of uses, and a good variety of them.