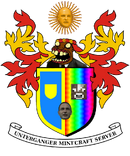 Welcome to the UMS Wiki!


This is a wiki where Untergangers of the Downfall Parodies fame build and talk about Minecraft stuff!
We are an offshoot of the Hitler Parody Wiki and are here to document our Minecraft creations, from buildings and redstone to monuments, infrastructure and towns!

1,077 stack of porkshops and 278 bomohs since 17 March 2014.