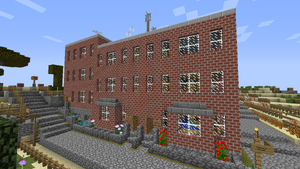 The apartment block is a row of three apartment units built by Molster to resemble regular utilitarian apartment buildings found in a typical western town. It's located near the southern border of the old Town, behind MTM's House and facing the South Line tracks.
Each unit is three stories high excluding the basement. Each floor has a tenant, with a living room with an open kitchen at the front, a bathroom, and the bedroom at the back. The landlord/landlady of each unit lives on the ground floor.
The named tenants are a homage of sorts to other YouTuber-Untergangers, some of which do not play Minecraft. These include Stacy Blackmon (Hitler Rants Parodies) and Soalric Parker (Soalric)
Player tudor made his first residence in the 3rd block, at the topmost apartment.
The block stopped short of a fourth unit due to MTM's existing mob trap in the way.