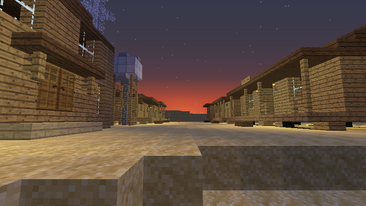 Autry Plain is a small 'wild west' themed village built by MTM, now converted into an artificial NPC village to reduce it's emptiness. It is located to the north of Unterganger City, close to Viktoria and the Dolfy face at the chunk error.
Autry plain was named after the famous country singer, Gene Autry, and was the first settlement built to the north of the Baldic Sea, it being constructed even before the steamer line was laid. It consists of three simple houses, a bakery/grocery shop, a train station, a two floor house, suposed to be the one of the town Mayor and goverment officers, a latrine and a big water tower with a motorized pump.
Trivia
There's a sign outside the bakery that writes ''refreshing, delicious double-mint chewing gum, a product Gene Autry advertised on his old radio show Melody Ranch.
The pump at the water tower is branded Deutz, a real company with more than a century of operation which produced multiple kinds of motors for home and industrial purposes.