Icyland is a WIP town that is being constructed by Gokyr586. The town is located in the eastern region of the server on a frozen lake. A notable structure in the town is the Great Igloo.
The name Icyland is a play on the country Iceland and the icy conditions of the Minecraft town.
The town is served by a station on the Outer Line.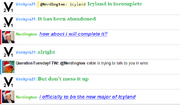 However, due to Gokyr becoming very inactive on the server, he gave Nerdington permission to complete the rest of the town.