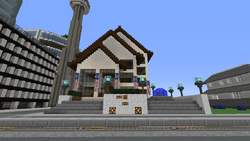 The Malaysian Embassy is a building in Greater Athyras built by the sole Malaysian member Molster. It is part of a complex of embassies representing the nations of every player on the server as mandated by Fegelein1906.
The basic form of the building is based off part of Menara PNB in Kuala Lumpur. The building is completed on 18 November 2014 and basic refurbishing work was done a day later.
The building is 4 storeys tall (excluding basement). Taking cues from other embassies already finished (e.g. the Swedish Embassy) the ground floor houses the reception as well as an immigration office where one can obtain passports. Unlike other embassies the first floor houses the office for expatriate affairs, while the second floor is the Ambassador's office itself. The fourth floor is the Ambassador's residence.