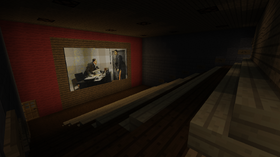 The
Cinema
(full name
Odeon Cinema
) is a building by
Molster
in the north part of
Unterganger City
. It's based off a cinema of the same name in Kuala Lumpur.
History
Molster first claimed the area by building an open air/mobile cinema in the latter half of 2013, reflecting a common scene in Malaysia's 60s and 70s. Plans were put soon after for a proper cinema building, but has to be postponed a few months because of poor network connection.
Work on Odeon Cinema started around January 2014. The design was based off Odeon Cinema, a historical cinema building in the heart of Kuala Lumpur, though the scale had to be tuned down due to space limitations and the Art-Deco detailing of the original building cannot be replicated in full.
With this build Molster had to convince Fegelein1906, owner of the server at the time, to add custom map items that he edited to form images that tile together to form the movie screen, and also a few movie posters. The cinema opened soon after.
Details
Facing the entrance is a ticket counter and a snack counter selling popcorns and beverages. Customers walk up the staircase to the right to get to the second floor where the theatre room is.
The theatre room has 6 seating rows numbered 1 to 6, each has 13 seats A to M. The doors and aisles are located at both sides of the room. Customers enter the room from the right door near the entrance staircase and leave the room at the left door that leads to the exit staircase. Toilets are available just outside of both doors.
The screen itself is made up of map items in item frames with each map item custom-made to form a tile image of the movie screen. 45 map items are arranged in a 9 by 5 blocks. the tiled screen image depicts a scene from the film Downfall (2004). Screen back lighting is provided by fixing the item frames on glass block wall with torches behind them.
The projector room is located at the opposite end and is acccessible from both staircases. A lever in the room turns the theatre room lights on and off.