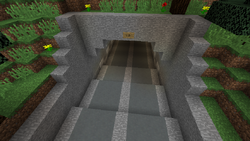 Seishun Tunnel is a road tunnel built by Molster (with some help from Tudor at the western entrance), linking Athyras to the Unterganger City Airport. The road is built underground to avoid having to deal with the clearing of the surface along its alignment, and any opposition from other players that might have come along with it.
The tunnel is 9 m wide, 6 m high, and very long (measurements pending). Its coasting depth is at level 56 (at road surface level), and at its deepest point under the River Oder, it's at level 52.
The name comes from Japanese "seishun" meaning "youthful", a word Molster picked up from an anime series.
Gallery