The Victor Building is MTM's major build in the Unterganger City. It's also the largest building in the whole city by area. The building was based on the home site building of the Victor Talking Machine Company (1901-1929) where the company originally manufactured cabinets for gramophones.
History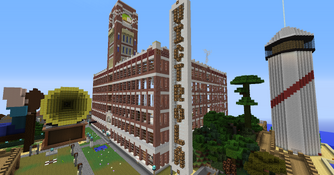 The Victor Building took around five months to complete and was finished on December 31, 2013, just on time before the server got closed until the new year. Due to its size, it was speculated that MTM would not complete it before 2014; he completed it (somewhat) just one day before 2014.
A big hill was flattened manually to give place to it, but it still turned out to be bigger than expected and encroached Molster's private beach property to the north. MTM, in fear of trespassing Molster's land asked the latter for inspection and permission. No trespassing actually took place, but the road leading from the city to the beach had to be rerouted.
The exterior is based on the original Victor building of Camden, New Jersey, though the interior is customized. 
The first two floors hold various offices and a ballroom (slightly inspired in the one from The Shining) while the rest of them hold representations of various equipments for gramophone and record manufacturing.
The Nipper tower, that goes over the cloud level, holds four stained glass windows that resemble a little to the originals on the Victor, featuring the picture His Master's Voice.
The original building is located in Camden, New Jersey, now converted into an apartment building. It was built between 1909 and 1916 and was originally used as a factory for wood cabinets for gramophones. It is only one of the few remaining of all the installations of the Victor and RCA Victor companies. The building got vacant when manufacturing ended in 1992, and was nearly demolished like many others, restoration was finished in 2003 and costed 65 million dollars.
The Victor Building is listed on the National Register of Historic Places.
External links