Wilhelm Kemp Tennis Complex (also referred to as the Wilhelm Kemp) is a tennis venue located in Sanostonburg that hosts the hypothetical Sanostonburg Open. The complex contains 13 clay courts, including 2 large capacity stadiums and 3 practice courts, a broadcasting center, and a planned training center. The complex started constructing on June 24, 2018, and finished mostly around June 29, 2018.
Naming
The tennis complex used a name generated from an HTML-based name generator. Nerdie looked for a German-sounding name to fit with the general theme of the server and Sanostonburg.
Initially the generator generated the more English-sounding name, but until on the 3rd try, the generator outputted William Kemp, but Nerdie thought it would be more German if he used Wilhelm instead.
Stadium courts
Centre Court (Court Rafa Nadal)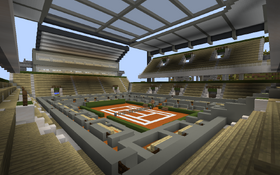 The Centre Court was the first tennis facility to be built in the complex as Wilhelm Kemp's center of attention. The stadium is also known as Court Rafa Nadal, named after the "The King of Clay" tennis player, Rafael Nadal. The stadium is able to hold up to 2863 spectators. The four main spectator grandstands also contains the first-in-server VIP boxes, modeled closely to the actual Court Phillip Chartrier in Stade Roland Garros.
A statue of Rafael Nadal can be seen at the northeast end of the stadium. Initially the statue was not built due to builder's block, but two weeks after construction of the complex, the statue was finally put in.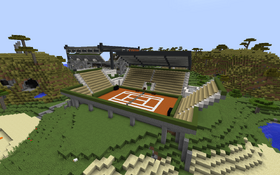 Court No. 9
Court No. 9 is the secondary stadium of the complex. The stadium contains 860 seats for spectators. Not much can be said about this stadium, except that the west grandstand has the only roof in the stadium.